10/27/2020 · Michael Schmitt · permalink
With the latest new version of Serial Reader released today you can now automatically serialize your own books, in addition to the over 750 classic books available in the app! Plus there are some extra new features for iOS folks, including homescreen widgets and custom reading schedules
Serialize Your Books
With version 4.0 of Serial Reader, you can now serialize and read your own books in addition to the 750+ classic books available in the app. Simply add any EPUB file in the app and Serial Reader will automatically divide the book into bite-sized issues, each able to be read in 20 minutes or less. It's a great way to tackle more challenging books or just fit more reading into your busy day.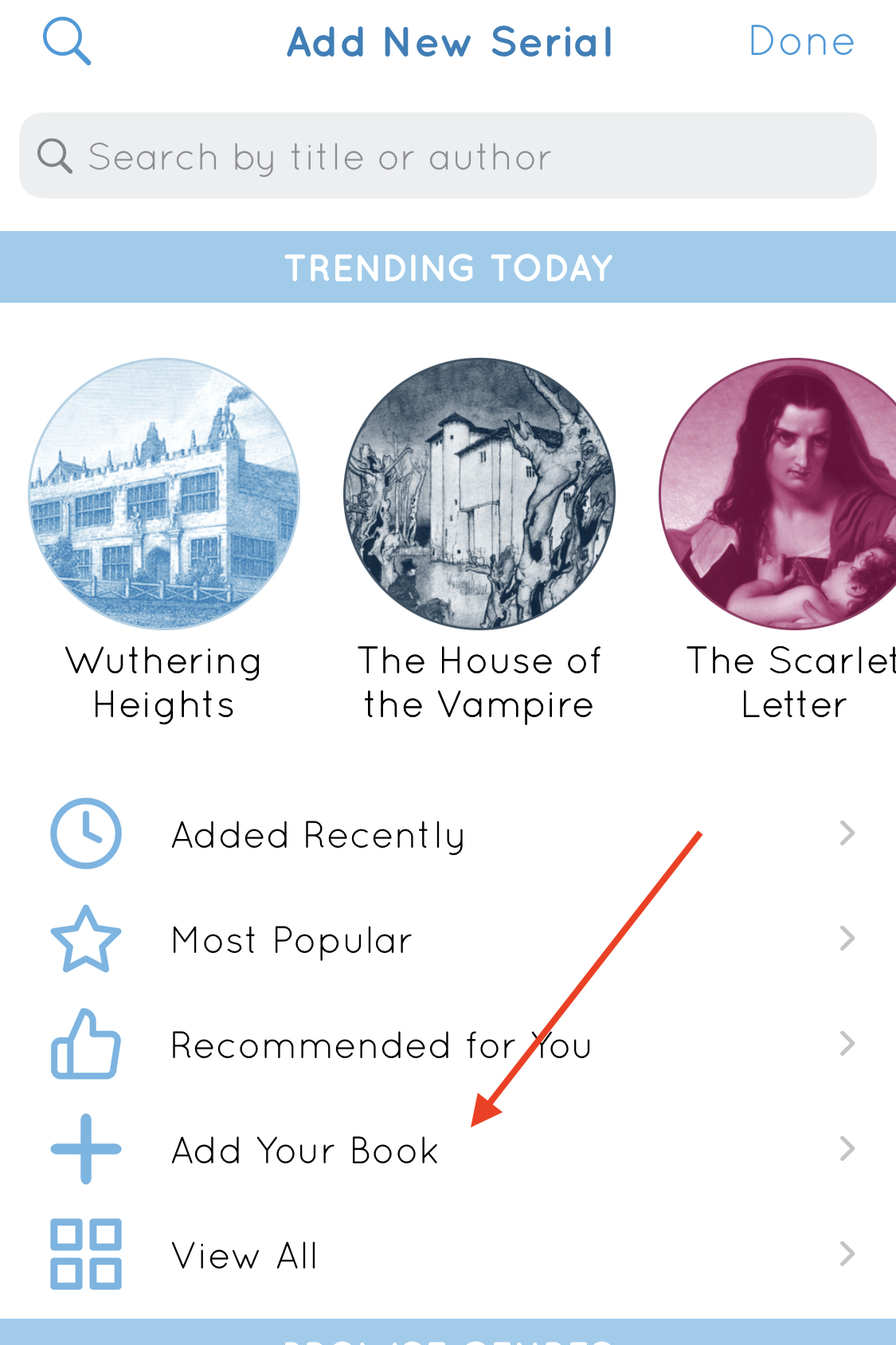 I've been reading a couple of my own books in Serial Reader this way. It's been especially helpful for reading a sometimes less-than-thrilling book for my day job on working remotely (hi, 2020) as well as some fiction. You can see below just started rereading the Star Wars Thrawn trilogy and The Great Gatsby. If you own some EPUB books and have had trouble getting through them, or want to read them a bit more slowly, reading them in small bits once a day is a great way to progress through a book and retain more info.
If you've upgraded to Serial Premium you can add as many of your books as you'd like! Other users can add one of their own books to try out the new feature.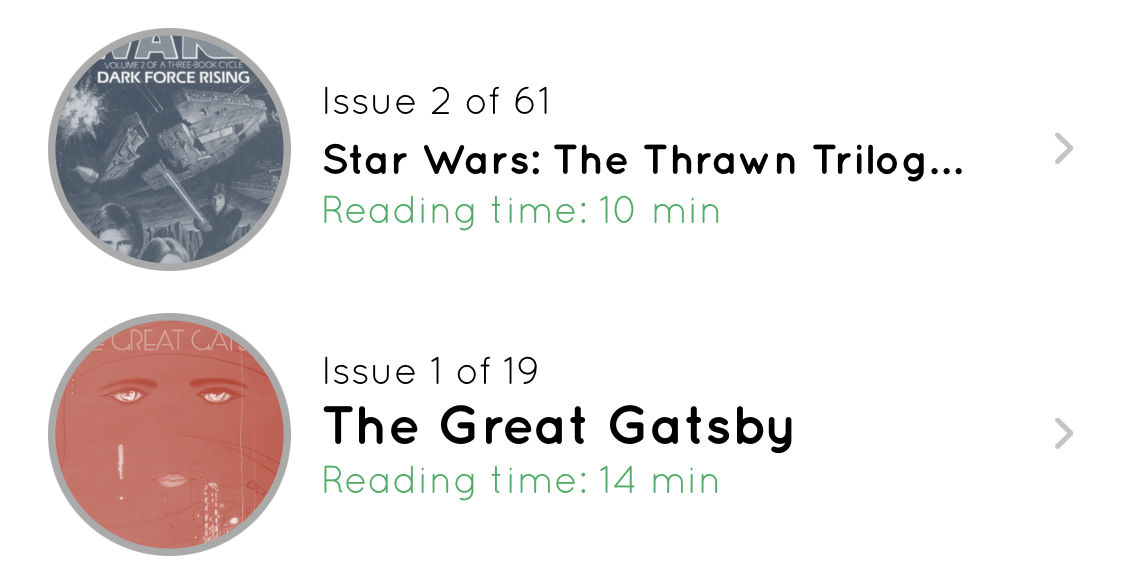 Homescreen Widgets
Also new in version 4.0 for iOS users are handy new homescreen widgets that help you keep track of your current books. Each one is super customizable with a range of colors and fonts to help the widgets fit in to any screen layout.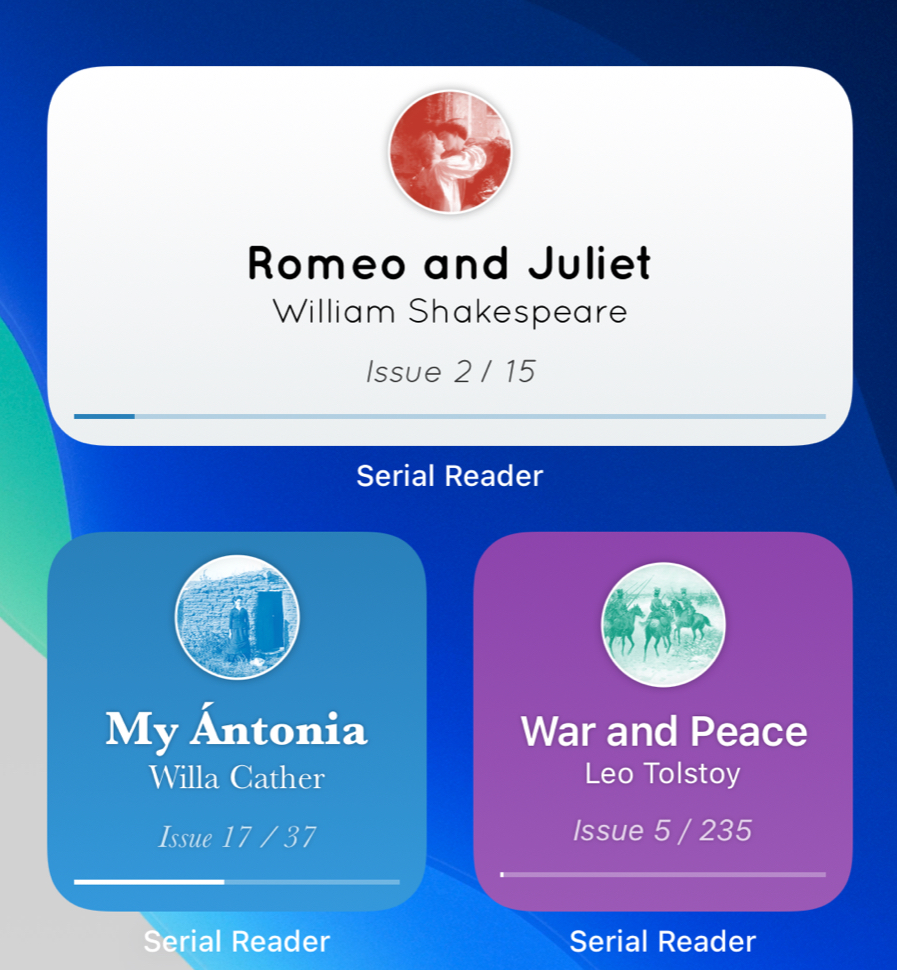 Custom Schedules
Not only that, but with version 4.0 of Serial Reader you can also now set custom delivery days for specific books. This lets you configure which days and which hour you want to receive new issues for particular books. Want to only receive new issues on weekends? Every other day? Now you can! Select which hour and days you want new issues for each subscribed book with Serial Reader's iOS version.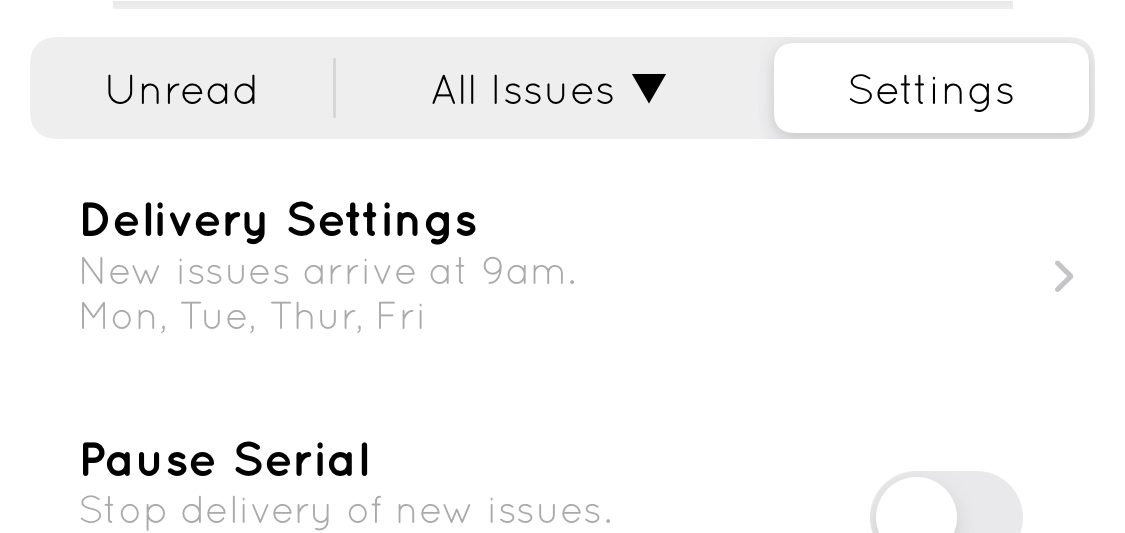 Download Serial Reader today from the Apple App Store or the Google Play Store!
Thank You!
I've been working on Serial Reader for just about 5 years now, which is honestly hard to wrap my mind around. What started as a personal project with a couple books, focused on improving my own reading habits, has grown into a multiplatform project with more than 750 books and thousands of readers.
Thank you all for your support! Please keep the great ideas, feedback, and questions coming. You've helped make Serial Reader what it is and I'll absolutely need your help keeping it improving over the next 5 years. I hope your next great read is right around the corner!
- Michael
---
08/19/2020 · Michael Schmitt · permalink
Yikes it's been a while since I had some new books to let you know about! I've been working hard on updates to the Serial Reader app. Stay tuned for more on that, or join the beta program to get an early look at new features before they're widely available.
New selections now available in Serial Reader include a fascinating history of Hawaii from its last monarch, Queen Liliʻuokalani, as well as a more leisurely travelogue from Henry David Thoreau in "A Week on the Concord and Merrimack Rivers." As for fiction, journey to the midst of the Jacobite Rising with Walter Scott's "Waverley," or the depths of WWI with "Three Soldiers" by John Dos Passos, or into outer space with John W. Campbell's sci-fi adventures.
---
04/03/2020 · Michael Schmitt · permalink
It's April 2020 and things are not normal. If you're like me, your reading habits have been thrown into disarray like so much else right now. I've found myself running between comfortable escapes and imagined grim futures we seem to suffering through. I thought I'd offer some collections of books available in Serial Reader for anyone else feeling the same way.
Frankenstein author Mary Wollstonecraft Shelley describes in The Last Man a deadly plague that threatens to destroy society. Arthur Conan Doyle's The Poison Belt - a sequel of sorts to The Lost World - Professor Challenger and associates try to survive a planet-wide wave of death. Finally, Daniel Defoe's Journal of the Plague Year vividly chronicles the Great Plague which ravaged London in 1665.
It's more than ok to look to escape and what better option than the adventures of Rat, Toad, and Mole in The Wind in the Willows? Or perhaps the hilarious idiocy of Wooster and his friends in My Man Jeeves? Or take a more relaxing approach with The Book of Tea: an essay aimed at explaining the connection between teaism, Taoism, and the aesthetics of Japanese culture to a western audience.
Explore how the world may be made better with ruminations on utopias, from Thomas More's Utopia, to Charlotte Perkins Gilman's vision of a peaceful world absent of men in Herland, to the utopian adventure that awaits in Anna Adoplh's Arqtiq.
Other Recommendations
If reading in short bursts really isn't working for you these days, I highly recommend Standard Ebooks for high quality public domain books, or Libby for checking digital books out from your local library.
Hope everyone stays safe and sane! We can do this 💪
---
09/25/2019 · Michael Schmitt · permalink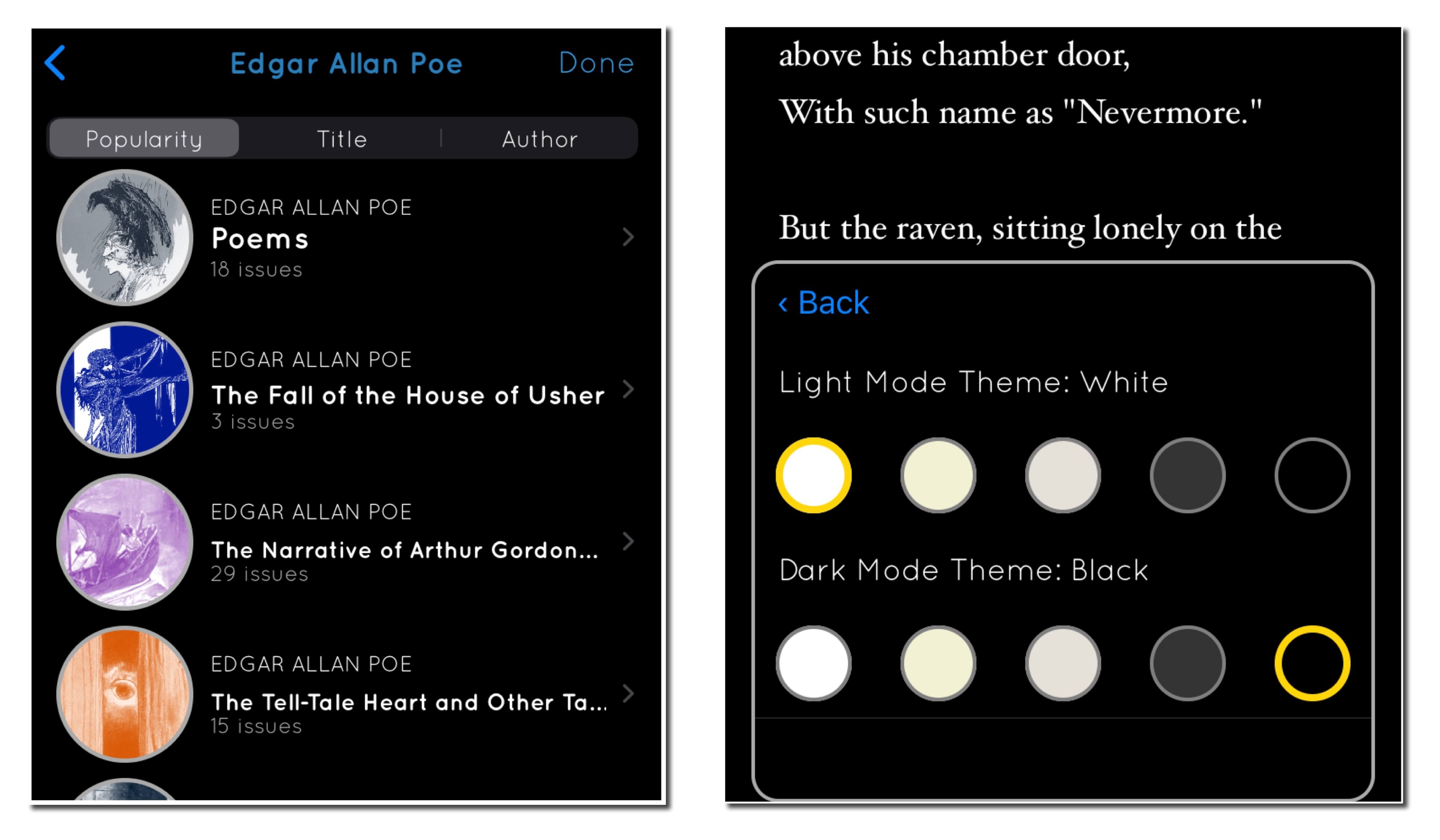 Dark Mode support and customizable reading themes now available in
Serial Reader for iOS
A new update is rolling out today for Serial Reader on iOS devices with support for iOS 13, especially Apple's new Dark Mode feature! Serial Reader will now automatically shift from light to dark themes when your device activates Dark Mode.
Additionally, you can now select different reading themes to use for light and dark modes! By default the reading screen will shift to a black theme automatically when Dark Mode is enabled. However, you can customize which particualr reading theme should be used by tapping the Settings icon in the top right while reading, then selecting the "Theme" option.
Maybe you'd prefer a light reading theme in Dark Mode, or you'd like a parchment-style theme regardless of what mode is enabled - whatever your preference, you can now customize Serial Reader to look just the way you want!
There are also a new selection of alternate app icons to choose from in iOS for Serial Premium folks, including a fun new Halloween option!

Speaking of Halloween, starting today you'll find some spooky story suggestions while browsing for new books in Serial Reader. And come October, don't miss the Halloween collection of scary stories!
---
07/31/2019 · Michael Schmitt · permalink
"The fool doth think he is wise, but the wise man knows himself to be a fool." How foolish indeed to go so long without such classics as The Taming of the Shrew, As You Like It, and The Merchant of Venice available in Serial Reader!
The wrong has been righted this week with the addition of several Shakespearean comedies, joining others already available like Much Ado About Nothing and A Midsummer Night's Dream.
Jumping forward a few hundred years, we come to an unsettling short story of an eerie doppelgänger from Edgar Allan Poe, which may have been an inspiration for Jordan Peele's horror film "Us"
From fictional horrors to those all too real: read Nellie Bly's undercover investigation of the brutality and neglect in late 19th century insane asylums with Ten Days in a Mad-House. Her work "pioneered a path for women in newspapers and launched what morphed into serious investigative journalism," writes The Washington Post. Bly's work is being recognized at long last with a monument in her honor in New York.
Other new additions this week include a philosophical monument in Immanuel Kant's Critique of Pure Reason, treasured children stories from Beatrix Potter, and a sci-fi short story from Mack Reynolds.
Until next week, happy reading!
---
07/24/2019 · Michael Schmitt · permalink
This week's collection of new books available in Serial Reader include two favorites: "The Adventures of Pinocchio" and "Aladdin and the Magic Lamp." They join several others that have been transformed into treasured movies by Disney -- find them all in the new Disney Favorites collection of books!
Also new this week is a fascinating book called "The Book of the Damned" by Charles Fort. It's an investigation of various scientific anomalies: strange things falling from the sky, strange disappearances, sightings of supposedly mythological animals, and yes - UFOs. (It's worth noting some claim Fort viewed the whole endeavor as a bit of a joke.)
Rounding out the new selections are a collection of short stories by H.G. Wells, a romance from Victoria Cross, and a novel mixing Irish mythology and philosophy from James Stephens:
Until next week, happy reading!
---
07/17/2019 · Michael Schmitt · permalink

Iceland by
Willian Justen de Vasconcellos
As I type this the thermometer outside my window is threatening to cross 90 degrees. The weather report assures me it'll be 100 before the day is out. If you're in a similar predicament, take a moment and consider soaring to the ice cold Arctic pole in a fantastic turn-of-the-century flying machine built by the heroine of Arqtiq, a fascinating feminist utopia sci-fi novel from Anna Adolph.
Liza Daly writes of the 1899 book, in her excellent exploration of Adolph's novel, "it's the writing style that makes the book truly unique. The prose feels modernist—staccato, ungrammatical, weirdly punctuated—but with a hypnotic rhythm that lends the whole work a kind of dreamlike intelligibility... At times it reads like the output of a neural net—it resembles the contours of human prose, but is thoroughly alien."
Also new in Serial Reader this week are two new collection of poetry from William Blake and -- returning to the cold weather theme -- Robert W. Service with his "ballads of the Yukon."
And finally take a dive into myths, sagas, and legends with Bulfinch's Mythology and James Stephens' Irish Fairy Tales. The former is one of the most popular collections of classical mythology, while the latter was described as "a work of true genius" by The Millions' Austin Ratner.
If you'd like to keep up with new book additions, check out the RSS feed and email newsletter. Until next week, happy reading!
---
06/19/2019 · Michael Schmitt · permalink
This week's collection of new books includes coming of age stories, sagas passed down through the ages, and at least one mystery to untangle.
Starting in the far past, Albert T. Clay's 1920 translation of "The Epic of Gilgamesh" is now available. Fast forward two thousand years or so and join Julius Caesar as he strives against the peoples in Gaul, the Rhine, and Britain in "Commentaries on the Gallic War" from 58 BC.
Speaking of Britain, the other three new titles come from lauded authors of the British isles. Virginia Woolf's "Night and Day" and Catherine Carswell's "Open the Door!" both follow the romances, struggles, and lessons of women in early 20th century Britain. Finally, J.S. Fletcher's "Scarhaven Keep" travels to mysterious Scarhaven on the coast of England to untangle an actor's disappearance.
Until next week, happy reading!
---
06/05/2019 · Michael Schmitt · permalink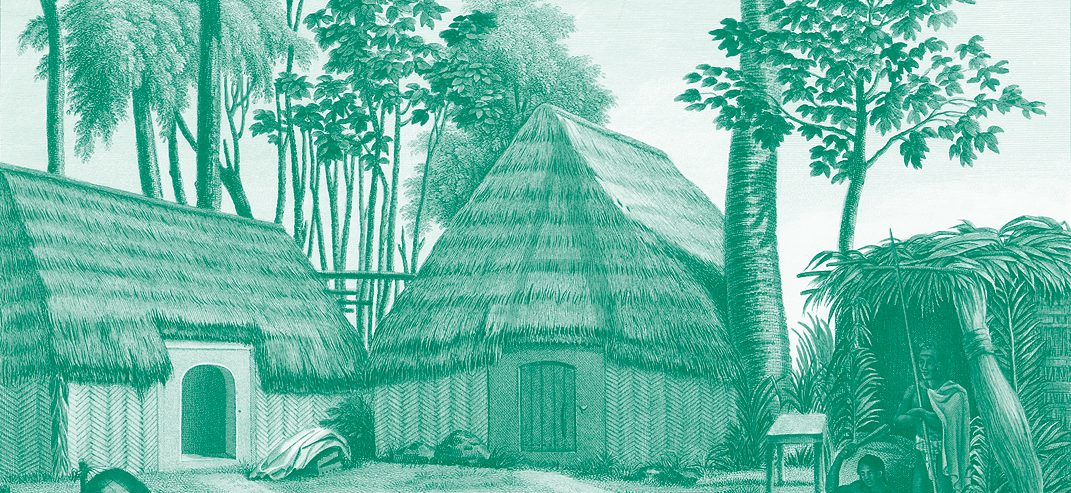 Houses of Kalanimoku, Prime Minister of the King, 1819
When adding new books to Serial Reader I often follow a theme that grabs my attention and this time it's Hawaii! I have family who live on the islands so I'm a little surprised at myself that it's taken this long to add some Hawaiian books.
These three titles are just the start - I have several more Hawaiian books I'm working through adding at the moment!
Rounding out the rest of the new additions are some often-requested titles I'm happy to finally offer in Serial Reader:
Until next week, happy reading!
---
02/10/2019 · Michael Schmitt · permalink
I've been adding oodles and oodles of new books to Serial Reader over the past week or two and really need to take a break to highlight them all, before this becomes a blog post with like three dozen books! (Just checked and we're only at two dozen - whew.)
There's a few much-requested books I've finally added (sorry sorry sorry), including Shakespeare's "Much Ado About Nothing" and the remaining installments in Dante's Divine Comedy:
The poetry collection in Serial Reader has always been a little lacking so I've been on the hunt for great titles to add. Two new ones to report here, including works from William Blake and Gertrude Stein:
Some more perilous choices now available include the next installment in Tarzan's adventures, sci-fi exploits from Jules Verne and Carey Rockwell, and thrilling reads from the early days of America:
And finally, there's a handful of new philosophical and religious books to choose from including works by Aristotle, Nietzsche, and Laozi:
Serial Reader now features more than 600 titles! If there's any books you'd like me to add, don't hesitate to reach out and let me know. Thanks for your support!
---